"Can you cover this party?" asked the Guardian fashion desk. Normally reporting on the Marc Jacobs bash – a highlight of New York fashion week – would be one of journalism's great jollies, but there were conditions. In this case, it was the dress code.
The Jacobs-sponsored book launch of Gloss, photographs of the heyday of ultimate 70s disco Studio 54 by Chris von Wangenheim, was to take place in New York's old Tunnel nightclub, where club kids frolicked in some of the most outlandish outfits of all time.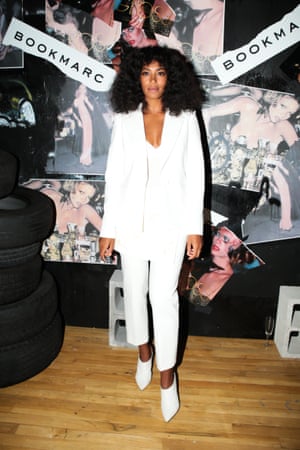 As has been gleefully reported by the fashion press, this was a party with a strict dress code "to be enforced" in the same spirit, its demands including "FUR COATS OVER LINGERIE, LIP GLOSS, JERRY HALL SIDE-SWEPT HAIR, SEQUINS, SKY HIGH STILETTOS, MIRRORED AVIATORS, METAL MESH" as well as "PLATINUM RECORDS AS HEAD GEAR, SEQUINS, GRACE JONES BUTCH REALNESS, BLEACHED EYEBROWS, SLITS, RIDING IN ON A WHITE HORSE" and "EYES OF LAURA MARS CHIC. NO FLAT SHOES. NO MATTE SURFACES. NO NATURAL LOOKS."
Having accepted the challenge, and regretfully recognised the lack of Eyes of Laura Mars chic in my wardrobe, I did the best I could. I am lucky enough to own a Saint Laurent tuxedo, while my mirrored aviator Raybans have done service at many a Glastonbury. With YSL Chelsea boots and a Superdrug umbrella (it was chucking it down) I was good to go.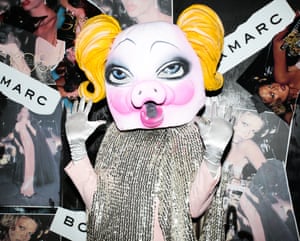 Arriving (on foot, not on horse) to the party, I was pretty damp. But taking the advice of a friend who always says, "It's not the clothes, it's the attitude," I channeled my inner Grace Jones and flounced straight in. Inside the cavernous space, scantily clad women in industrial cages set the mood, while my Aviatored eyes tried to become accustomed to the gloom. Not enough – I tried to pluck a glass from a tray proffered by the nearest waiter who said: "Er, those are empties."
Shades removed, I spied Jacobs himself who was holding court in a circle of banquettes off to the side. Having set the impossible dress code, he was wearing a black T-shirt advertising the book, though on closer inspection had a fur coat draped around his waist. Next to him was Katie Grand, editor-in-chief of Love magazine and one of the world's most sought-after stylists, resplendent in a very disco red sequinned dress. I was a colleague of Grand's on the Face back in the day, so steamed in for her thoughts. "I was going to be really subversive and wear jeans and a Beastie Boys T-shirt," she said. "But I told Marc and he said, 'I'd really prefer it if you wore something else.'"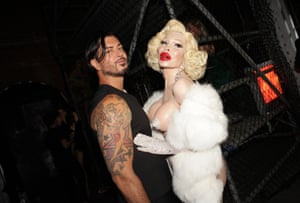 The guests certainly were wearing something else. There was a man dressed in a gold lamé NY cop outfit, a man with an artist's easel on his head and more metallic leggings than you could shake a stick at. Meanwhile models dressed in black sequinned mini-dresses, electric-blue furs and gold turbans, swarmed the floor, as Honey Dijon cranked out the disco classics.
A few glasses of champagne to the bad, your correspondent reinstated the shades and got busy on the dancefloor, attracting the attentions of a gentleman in a diamante halter-neck and bridal veil. For one rainy night in New York, Marc Jacobs had recreated the high-maintenance glamour of the city's most legendary era.