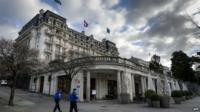 The UK says key issues still need to be tackled at talks on Iran's nuclear programme but agrees with Iranian and Russian delegates that there is "a broad framework of understanding".
Foreign Secretary Philip Hammond said: "We hope to get there during the day."
However, a number of ministers have left the talks and China warned compromise was essential, otherwise "all previous efforts will be wasted".
A deal would curb the nuclear programme in return for sanctions relief.
Negotiations between the so-called P5+1 – the US, UK, France, China and Russia plus Germany – and Iran resumed on Wednesday at Lausanne's Beau-Rivage Palace hotel after overrunning a 31 March deadline for a deal.
The P5+1 deal seeks to ensure Iran could not assemble a nuclear weapon in less than a year. The Iranians insist that they have no such ambition.
'Fingers crossed'
Mr Hammond told the BBC: "I think we have a broad framework of understanding, but there are still some key issues that have to be worked through.
"Some of them are quite detailed and technical so there is still quite a lot of work to do but we are on it now and we'll keep going at it.
"Fingers crossed, we hope to get there during the day."
Mr Hammond stressed again that he would not sign up to a "bad deal".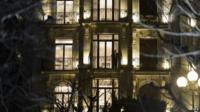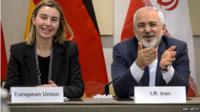 Russian Foreign Minister Sergei Lavrov said earlier that "one can say with relative certainty that we at the minister level have reached an agreement in principle on all key aspects of the final settlement of this issue".
"It will be put down in writing over the next few hours, maybe during the day," he told Russia's Tass news agency. He has now left the talks.
Iranian Foreign Minister Mohammad Javad Zarif said that "quite a bit" had been accomplished.
"I hope that we can finalise the work on Wednesday," he said.
But Chinese Foreign Minister Wang Yi has now also left Lausanne, issuing a note of caution.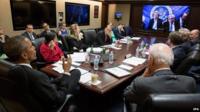 A Chinese statement read: "It is important to give political guidance to the negotiations… it is important to narrow down the differences.
"If the negotiations are stuck, all previous efforts will be wasted. All parties must be prepared to meet each other half way to reach an agreement."
French Foreign Minister Laurent Fabius has also left Lausanne but said he would return as soon as it was "useful".
US President Barack Obama held a video conference overnight with the US negotiating team. He was briefed on the progress of the talks by Secretary of State John Kerry but no details were released.
The BBC's Barbara Plett Usher, who is at the talks, says that walking away from the talks would be difficult for the US.
The team is under pressure to return with something they can use to argue their case in front of a sceptical Congress, our correspondent says.
Any agreement would set the stage for further talks aimed at achieving a comprehensive accord by 30 June.
Sticking points
After months of negotiations, the basic outline of an agreement is well known.
Iran would scale its nuclear programme and subject it to rigorous inspection for at least 10 years. In exchange, there would be an easing and eventual end of crippling UN, US and EU sanctions.
However, there are some issues yet to be resolved. These are thought to include:
Length of restrictions – Iran's nuclear activities would be strictly limited for at least 10 years. After that, Iran wants all limits to be lifted. The P5+1 says they should be removed progressively over the following five years
Sanctions relief – Iran wants the UN sanctions suspended soon after an agreement. The P5+1 says they should be eased in a phased manner, with restrictions on imports of nuclear-related technology remaining for years
Non-compliance – The US and its European allies want a mechanism that would allow suspended UN sanctions to be put back into effect rapidly if Iran reneges on a deal. Russia reportedly accepts this, but wants to ensure its Security Council veto rights are protected
Centrifuges - Iran wants to develop advanced centrifuges that can enrich uranium faster and in greater quantities