Going up
Chloe MacKenzie Reese Witherspoon's fictional daughter in Big Little Lies has it all sussed. Plus her iPod is better stocked than our fridge: think Leon Bridges, PJ Harvey and Michael Kiwanuka.
Feather boas A Balenciaga accessory we can get behind (afford) by going through our dressing-up box.
Esprit x Opening Ceremony Think spots, stripes, sunflowers and ditsy bucket hats.
EU flag Vetements put it on the catwalk, Christopher Shannon shredded it and new brand Eurotic has put it on Ts and sweatshirts. Mode à la Maastricht.
What We Wear Tinie Tempah's new sportswear is all low-key charm: minimal tops and sweatshirts with a few well-placed zips and poppers.
Brie Our molten friend could help you live longer, a study has found.
Going down
Peonies Lovely, obvs, but wisteria is the flower of the season.
Bog-standard suitcases Smart luggage is the new sheriff in town: there are now carry-ons that charge your phone.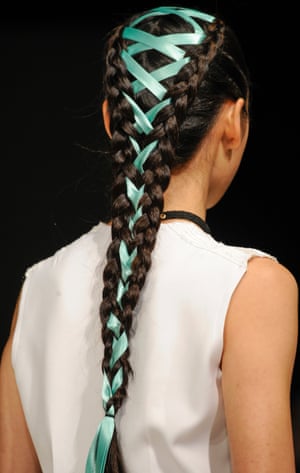 Beer yoga Surely a well-earned beer post corpse pose is preferable to a mid-plank pilsner?
Barbed-wire brows Proof that Insta-friendly sourcils styling has jumped the shark? See also: feather brows.
Dry shampoo An absolute must, especially as we approach festival season. Except for the white powder part: instead, try foaming dry shampoo in humid tents.
Corset hair Plaits for people who grew up on a diet of cat's cradle.