1 person dead after shooting at North Carolina community college – Fox News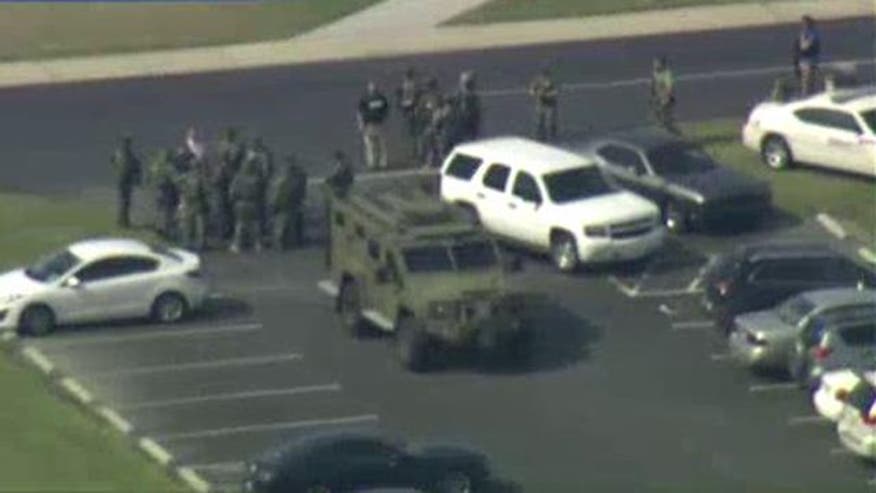 Police were hunting for a gunman after one person was shot dead Monday inside a library at a North Carolina community college.
Wayne Community College, in Goldsboro, was placed on lockdown after the shooting.
Kim Best, a spokeswoman for the city of Goldsboro, N.C., told The Associated Press that the victim in the shooting is dead, but would not give any other details.
Daniel Wiggins, assistant operations manager for Wayne County, told ABC11 that authorities were actively looking for the shooter.
Police described the suspect as a bald, white male with a tattoo over his left eye. He was last seen wearing a blue shirt and light-colored pants.
Earlier, Tara Humphries, a public information officer at the school, told the Goldsboro News-Argus that police have one suspect "under control," but she later corrected that information, saying nobody is in custody.
A SWAT team and officers have arrived on scene, the Goldsboro News-Argus reports. Goldsboro police and the Wayne County Sheriff's Office responded to a report of a shooting in the college's library.
"This is not a drill. The entire campus is under lockdown," read a message posted on the school's website.
The school has a student population of 3,837 and is staffed by 496 faculty members.
Wayne Community College President Kay Albertson said all school personnel have been evacuated.
Pictures posted on social media showed students being led out of buildings with their hands up.
Tommy's Road Elementary School, which is near the community college, was placed on lockdown after the shooting, WRAL reports. Students of Wayne Early Middle College, located on the campus of Wayne Community College, were told not to go to classes.
The private Wayne County Day School, which houses around 300 students — was also placed on lockdown.
"We saw 10 to 11 cruisers go by all at once," Melissa Watkins, a volunteer parent receptionist at the school, told The Associated Press. "We knew something was going on; we just didn't know what or where."
CommentsWrite a Reply or Comment: